The 2019 Color of the Year has been announced by three top paint companies.Paint companies Benjamin Moore, Sherwin Williams and Behr have predicted what their color experts believe will be the most popular color in home design for 2019.
Benjamin Moore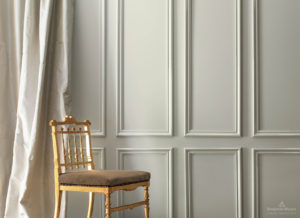 Benjamin Moore is predicting that neutrals will continue to take center stage, yet home owners will want to warm up from the cool gray tones popular in recent years. Their prediction: Metropolitan, AF-690.
"Metropolitan AF-690 emanates nuance, harmony and extravagant ease. Always adaptable, it softens to matte or shimmers with sheen. It's neutral. It's understated. It just is. This is color, off-duty." – Ellen O'Neill, Benjamin Moore & Co.
I like this color. It works well in most settings. However I love COLOR… bright color. If I were to use this on the walls in my home or a client's home, I'd be sure to add navy blue, green or another bright color to bring life to the space.
Sherwin Williams and Behr have opted for more vibrant choices, moving away from the muted neutral gray trends we've seen now for nearly a decade.
Sherwin Williams
The color gurus at Sherwin Williams' choice for 2019 Color of the Year is Cavern Clay SW 7701. I'm personally not a fan of rusty orange or clay colors as a main choice for walls or furniture in any room. However as a toss pillow, vase or accessory, this color can add a nice warm POP to an otherwise cool or neutral space.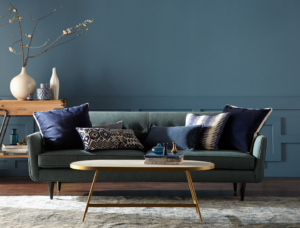 Behr
The sleeper in my opinion, Behr selected Blueprint as their color of the year. The paint company says it's meant to signify authenticity, confidence, and timelessness. "The 2019 Behr Color of the Year, Blueprint S740-5 is an honest, approachable color that conjures up the blueprints that builders rely on to bring architectural designs to life. Blueprint creates a space where you can build your own reimagined life-—where awareness of what we want to build for ourselves can transform into action." – Behr.com
Now this, I like! While I typically select paint colors for my clients from Sherwin Williams and Benjamin Moore, I'm applauding Behr's ability to really look ahead with the trend. I tell my clients to look to the fashion runways to predict colors we will see in home decor for the next year or two and blue, in particular Navy blue – has been on-trend in fashion and home decor now for a year or two. Just last year I helped a client breathe new life into her barn red dining room (how many of these did I decorate in the late 90's and early 2000's ?!) by selecting a dark navy blue paint called Soot from Benjamin Moore. Blue coordinated with EVERYTHING and can be a stunning wall color choice in any room of the home.
So tell me, which is your favorite? Make your comments here. And better yet, post pics of your home using one of these or a similar color or your favorite inspiration photo.
Happy Decorating,